NCRC CUSTOMER SPOTLIGHT - TURBO TODD MOYER
Fastest Turbo on 10.5's is almost ready for the 2012 Season
Photo Courtesy of Andrew Wolf Photography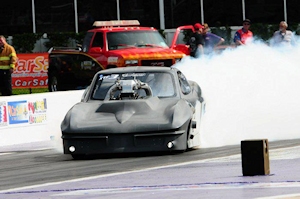 What's new for Team Moyer this year?

"We've made some pretty big changes this year, we're gonna run the same two cars. The Jerry Bickle 67 Camaro, Lamar Swindol will be driving it. We're also going to be running the Terry Murphy 63 Corvette and both cars will be tuned by Steve Petty.
Petty is a new addition to your team isn't he?

This is a new deal we just put together, Steve's going to be tuning the cars but we'll still be using the same engine builder, Jeff Nasier at NRC Racing Engines on both cars. The Corvette will running the same 640" 5.300 bore space motor and the Camaro will have a twin motor in it. That engine is actually going together right now and should be in the car in a few weeks. In addition to Steve Petty, Chase Driskell, Alan Haltom, and of course Lamar Swindol make up our Team for 2012."
Have you had a chance to test yet this year?

"We're hoping to be testing the first weekend to second weekend of March. Steve will fly in and hope to spend two or three days at a track getting the cars lined out."
Are your cars staying in Extreme 10.5?

Yeah, both cars will be staying in ADRL Extreme 10.5. We were just getting a handle on the Corvette when we exploded that Turbo on it, it grenaded and tore up our Big Stuff wiring harness and our Racepak, and without that you can't race. We were definitely getting a handle on it. Right off the trailer we 3.97 and 209 mph, something like that, so it's coming together.
What do you like about NCRC Converters?

I've had probably the best luck in the world with the Neal Chance, considering I ran it for 2 years and never broke it, never had a problem with it, and it worked the same flawlessly all those two years. So it was to me what I call a very consistent converter. It worked, and it stayed working the same and it never changed... We just got another one that's identical to the one in the Vette to put in the Camaro using the exact same setup.
What do you think of the Turbo Vs Blower battle brewing this year?

It's gonna be interesting, that's all I can say. Soon as we get Steve out there with us and let him see a few laps and make some changes - Yeah, the Turbo vs Blower deal is gonna be a heck of a battle. Billy Glidden came in there with a 3.88 last year, hopefully over the winter he found 2 or 3 hundredths so he can go 3.86 or 3.85 - that's fast for a Nitrous car!
Would you like to give a shout out to your sponsors?

"Yes, we'd like to thank Mickey Thompson Tires and Wheels, NRC Racing Engines and our New Sponsor Steve Petty helping us. I feel like he's one of the top tuners in the turbo industry and I think it's gonna take us to the next level."
Todd and his wife Kathaleen own TRM Automotive and Diesel Service in Pasadena, Texas - about 15 miles from Houston. They do Brakes, Transmissions, Tune Up's and specialize in Duramax, Power Stroke and Dodge Diesels. So if you need some help in that area make sure and look them up.
Thanks for bringing us up to date Todd and Good Luck this year!
Posted in Racing News - February 16th. 2011
MOLNAR / QUESENBERRY GOES 6 FOR 8 IN 2011
Sets Top Dragster Records at 3 tracks
Photo Courtesy Moto Lenz Photos
T
he Molnar / Quesenberry Motorsports Team had a great season with their new Top Dragster running a Neal Chance Converter. The Team ran a Blown 2011 Spitzer Dragster at 8 races in 2011 and won 6 of them. In the process of all those wins, they broke the track record at Thompson Raceway Park, Summit Motorsports Park and Dorchester Raceway which is no small feat.
Their quickest pass occured at Thompson's Asphalt Wars in September where they laid down a blistering 3.7392@193.71 during qualifying, over a tenth faster than #2 qualifier and broke the track record for a 2nd time in the season. With Dave Quesenberry's tuning, and Paul Molnar's driving skills, the duo also collected the win as well!
Congratulations to both Paul and Dave, and the Molnar / Quesenberry Motorports Team on a Stellar Racing Season!
Posted in Racing News - December 23rd, 2011
MAHONEY OSCA PRO STOCK CHAMPION & RECORD HOLDER
Wraps up 2011 Season on top despite bad wreck at Season Final
B
utch Kemp said one word that fully describes Wayde Mahoney's racing program this year, DEDICATION, and certainly no one will disagree that Wayde, Crew Chief Mike plus lots of friends are "All In" when it comes to running OSCA Pro Stock.
At the last race of the Ontario Street Car Association season Wayde cut a tire down in the lights and he got into the wall during qualifying, basically tearing the car up pretty bad - [ Crash Photo | Crash Photo #2 ].
A lot of guys would have loaded it up right then and there, licked their wounds and called it a year... but not Wayde oh no sir... Aided by his friends and team, they put in an all night thrash fest replacing the front end, radiator, hood, tires, wheels and lots of other parts and had it all back together in time for eliminations the next morning! Mahoney won the season final, and finished with points to spare to take the win for the OSCA Pro Stock Season Championship and it was his first year running Pro Stock to boot! Can't beat a storybook ending like that.
While he was at it during his first year in the class, Wayde also ended the season as the OSCA Pro Stock ET & MPH Record holder with a 8.188@174.77 weighing in 3280 lbs! Most anybody will agree that's flying without a power adder of any sort - we're impressed as well!
Congratulations Wayde & Mike on your season championship, records and the hard work it took to get there!
Mahoney's Mustang is powered by a BES Racing 555 BBF with A-460 Trickflow heads, Hutch Transmission and the Billet Aluminum NCRC Converter.
Posted in Racing News - December 21st, 2011
CRITTENDON NEW MRA WORLD RECORD HOLDER
Lil Feller 2 & JarHead Racing Get it Done in Florida Mud
Photo Courtesy JarHead Racing
We can't thank you enough for your knowledge, assistance, and efficient expedition of our order. NCRC went above and beyond to serve a first time customer and that is what gains AND KEEPS customers throughout their racing careers. We look forward to a continued relationship with NCRC and your quality customer service and workmanship.

Kudos to all of you...Job Well Done.

Benita Crittendon (& Chris "Woo" Crittendon)
Lil Feller 2, JarHead Racing
Greenhead, FL
C
hris Crittendon aka "Woo" of Greenhead Florida races in the Mud Racers Association (MRA) Renegade DOT Pit Class, which is the first Naturally Aspirated Pro Class in mud pit racing. He and his wife Benita set the World Record in the class for the first time in Cobbtown, GA back in May, then they completely rebuilt the truck to step it up another notch.
After some last minute tweaks to the converter setup getting everything dialed in, their efforts were rewarded at the MRA Season Final Championship in Bithlo, Florida. The JarHead Racing team broke their own World Record on the 1st pass, then broke it again on the second pass!
The team plans on running the full MRA circuit in 2012, and with the records they hold will certainly be visiting the winners circle often we bet!
If you've got some time, check out this YouTube Video of Lil Feller 2. The first run is at at 0:28 and the second at 1:29. He's got that Chevy Screaming!
Congratulations to Chris, Benita & the JarHead Team on their standing 2011 World Record & Good luck next season...
Posted in Racing News - December 9th, 2011
MO HALL RESETS N2O OUTLAW 10.5 RECORD
Runs 4.21 at Cecil!!!
Photo Courtesy TMP Photography
Cecil County - Mo Hall has reset the Outlaw 10.5 Record for a N2O car this weekend!! He ran 4.215 which is both a new World Record, and his personal best pass. Mo's previous best pass was a 4.26 at Atco back in October, also breaking the N2O World Record! This man is on a mission!!
Record Pass Incrementals
60' - 1.056
330' - 2.828
660' - 4.215@183.87

Congratulations to Mo, Steve and entire Mo Hall Motorsports Team!
Posted in Racing News - November 26th, 2011
DEMAYO 2011 SCSN HOT STREET CHAMPION
1.13 60' Naturally Aspirated WOW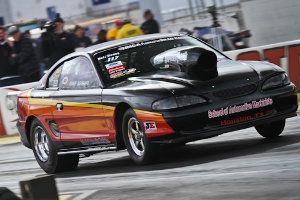 Photo Courtesy Dragzine.com
M
ike DeMayo captured his 2nd Hot Street win at the Seventh Annual Street Car Super Nationals November 20th at Las Vegas Motor Speedway. DeMayo, who won the class in 2008 turned in a repeat performance again this year. Competition was strong with a good field of cars in the Naturally Aspirated Class.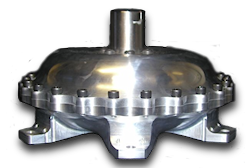 DeMayo's Weapon of Choice
NCRC Customer Robbie Blankenship, the 2011 NMRA Hot Street Champion set the bar by grabbing #1 Qualifier with a 8.126@165.40, DeMayo was #2 recording a 8.168@166.09, and Don Bowles was #3 qualifier with a 8.237@165.07. When it came down to the All NCRC Final Round, It was Bowles Vs. DeMayo and they put on a close race. DeMayo went 8.116 to Bowles 8.148 taking Team Powerhead to the Winners Circle once again.
Mike reported that his 95 Mustang laid down a 1.13 60', which is flat awesome for a small tire, naturally aspirated combo! His NCRC Ultra Light Full Billet Converter might have played a small part in that awesome launch!
Congratulations Mike and Team Powerhead!
Posted in Racing News - November 24th, 2011
KERR BACK TO BACK ORLANDO PRO STREET WINNER
Defeats Gary Langner for World Street Nationals Title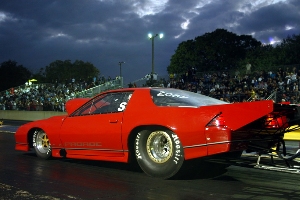 Photo Courtesy Dragzine.com
G
enn Kerr recorded his second win at the 2011 World Street Nationals in Orlando Florida. This win marks his second in a row victory at this race, something very few racers can claim!
He defeated Gary Langner from New York in the final round after laying down consistantly fast six second runs throughout eliminations. In the final, Gene went 6.840@199.85 soundly defeating Langer who went 7.887@134.64 on a off pace run.
Congratulations Gene on your back to back win!
Posted in Racing News - November 23rd, 2011
ADRL LENMAR WORLD FINALS WINNERS & CHAMPIONS
NCRC Customers Clean up in Pro Extreme, Extreme 10.5 & Pro Mod!!!
Pro Extreme
T
he ADRL LenMar Motorsports World Finals VIII in Enis, Texas was completely off the chain for our customers here at Neal Chance Racing Converters. They flat out dominated this race and kicked butt!!!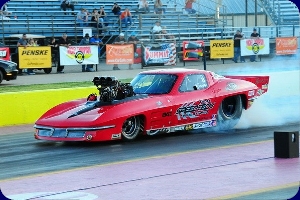 Photo Courtesy CompetitionPlus.com
Photo Courtesy CompetitionPlus.com
Frankie Taylor started things off by tying his own World Record Pass during qualifying Friday, running an awesome 3.581@211.36 mph landing him the #1 spot in an incredibly tough field and breaking the Texas Motorplex Track Record in the process. Jason Scruggs landed the #2 position with a 3.590@208 - his first pass in the 50's, Joey Martin grabbed #3 with a 3.628, Todd Tutterow came in 5th with a 3.634, Gaylen Smith was there also landing 6th at 3.645, and Alex Hossler in 7th with a 3.664 - a bunch of our guys in the top 10!
Todd Tutterow, aka King Tut, set his new 67 Mustang in bracket racer mode and dialed it in at 3.63; that was the key to him winning his second ADRL Battle for the Belts.. Crazy fast and super consistant and you all know how hard to beat that is! He defeated Frankie Taylor 1st round, which is no small feat, with a 3.634, next he took out Hamstra in the semi's. In the "All NCRC" final round he was up against Alex Hossler who broke in the burnout and Tutterow took home the rare ADRL Gold Belt!
Congratulations to Todd on your Second Battle for the Belts Win!
Jason Scruggs, the #2 qualifier took out #1 qualifier Frankie Taylor in the All NCRC final round for the event win. Scruggs ran a 3.604@208.59 over Taylor's off pace 3.719@178.07 marking his second win this season which got off to a rough start. Scrugg's has definitely worked the problems out on the car and is flying now!
Way to go Jason! Congrat's on a great final to your racing season!! Also congratulations to Frankie Taylor on the R/U!
Photo Courtesy CompetitionPlus.com
We also want to give a shout out to Brandon Snider who brought out his new Joey Martin Race Cars built Vette equipped with a Neal Chance All Billet Converter to it's first race. Snider ran a best of 3.677 and 207 mph - that's pretty darn impressive considering they are still working the bugs out of the car - keep your eye on this awesome machine next year!
Extreme 10.5
Photo Courtesy ADRL
Dan Millen completely dominated the ADRL World Finals, and can lay an undisputed claim to being "The Baddest Man Alive on 10.5's" after running a CLEAN SWEEP winning it ALL at the Texas Motorplex. Millen drove home to Michigan with the 2011 ADRL World Championship, the Battle for the Belts Win, and the season final event win. Anyone reading this would have to agree after a weekend like that, we'd all be smiling for weeks... and that would just be over the bragging rights, the $48,000 Millen pocketed for the weekend was just icing on the cake. No other driver in ADRL came close to a season like Dan had, not only that but this is also his 2nd back to back championship as well. Whew.. We just hope he can still put his helmet on after all that, none of us could!
Dan wasn't the only NCRC customer tearing it up in Texas, Grant McCrary, the #2 qualifier with a 3.860@203.83 and previous race winner was going to be tough and Millen had to get past him in the "All NCRC" final round to get the win, and he did. Millen went 3.889@200.35 over McCrary's 3.910@202.39 in an very close season final. There is no doubt that GMAC will be a front runner in the 2012 ADRL Season and he's already got up to speed very quickly with his Turbocharged combination.
Big congratulations to Dan and his team on a outstanding season and the championship!
Pro Mod
Photo Courtesy CompetitionPlus.com
Lee Adkins followed up his Pro Mod win at Norwalk with his 2nd in a row win at the ADRL World Finals. Adkins, the #5 qualifier defeated Khalid Al-Balooshi in the 2nd round with a hole shot and took out Pete Farber with another hole shot in the final running 3.929@187.18 vs Farber's slightly slower 3.923@191.00.
Congratulations Lee and team on your second straight victory in a row!
Posted in Racing News - 2011-10-08
FINAL THROW DOWN IN T-TOWN - BREAKING RECORDS & WINNING RACES!
Big Midwest Shoot Out Draws Grandstand Busting Crowds for Final Race
B
ob Bales grabbed his first win in the Oklahoma True Ten Five class at the Throwdown, and he blew away his own record in the process as well! Bob ran a 4.98@151, 7 MPH faster and .01 quicker than his previous record setting performance - woo hoo! Bales took out Thomas's White Fairmont from Texas in the early morning final round and laid claim to the big purse. This is Bob's first year with this car, and although he's no stranger to racing at this level, he certainly got the car up to speed quick!
Congratulations Bob!
LenMar Motorsports Co-Owner Gaylen Smith unloaded James Dean, the Teams beautiful 1959 Corvette and ran a 3.69, getting him the #1 qualifier position and a new track record for Tulsa Raceway Park. Gaylen didn't have success in eliminations, but it's not a bad day when you reset the track record, qualify #1 and run a new personal best in James Dean as well!
Congrat's Gaylen!
Todd Kitchen fought his Outlaw Ten Five Trans Am all summer long working the bugs out of the new setup, but it all started coming back together at the Throw Down for his new combination. Todd laid down a 4.358 resetting the ET record in the OT5R Series which is very impressive if you knew the combination this car has. Todd ran into some tire shake during eliminations stopping him early, but another NCRC Competitor Aaron York did make it to the finals and runnered up!
Congrat's on the new Record Todd and to Aaron on your R/U!
Posted in Racing News - October 27th, 2011
BRIAN PAYNE UK STREET ELIMINATOR CHAMPION
NCRC Customers Totally Dominate Class
B
rian Payne took home the 2011 UK Street Eliminator Championship after the National Finals at Santa Pod Raceway. Brian finished 760 points ahead of Race Winner Ian Hook, who runnered up in points for the season, and Alex McIntosh who came in 3rd in points, and runnered up in the National Finals..
UK Street Eliminator is the longest established street-legal drag racing series in Europe and features some of the quickest and fastest hard-core true street cars on the planet.They still incorporate a street cruise as part of each race, something most classes here in the United States dropped years ago.
There is one thing these three racers share in common, along with 86% of the entire UK Street Eliminator race field... They all rely on Neal Chance Racing Converters to set take them to the winners circle and win championships!
The 2011 Champion Brian Payne, along with many of the other racers in the class also rely on Andy Frost Racing Transmissions - a great combination with NCRC!
Congratulations Brian on your 2011 Championship, Ian on your Runner Up and Alex for your third place finish.
We'd also like to thank Andy Frost, the NCRC Dealer in the UK for his great support to the racers!
Posted in Racing News - October 27th, 2011
CADOTTO 2011 MILAN OUTLAW 10.5 CHAMPION
Takes Dodge Truck to Gun Fight, and Wins!!!
C
ris Cadotto ran into many setbacks building his Hemi Powered Outlaw 10.5 Dodge Truck, but he fought through them and that perseverance let him lay claim to the 2011 Southern Motors Outlaw 10.5 Championship at Milan Dragway.
Cadotto finished the season with a best ET of 7.02@195 at 3300 lbs, that's in a Truck with 10.5 tires - pretty impressive! Especially when you consider this is his first year with blown Alky. Now that his team has their feet wet with the combo, you can certainly bet this full size bright red Dodge will be well into the 6's next season...
Congratulations Chris and Team Members on your Championship!
Posted in Racing News - October 13th, 2011
BOOZE & BASKIN NMCA CHAMPIONS!
Woo Hoo!! Charlie Booze Jr. Sets New NMCA Pro Stock Record - 8.359@160.59!!!
Photo Courtesy StangTV.com
C
harlie Booze Jr. laid down the law at Indy! Booze qualified #1 with a 8.36@159 blowing away Robbie Blankenship's record set in June. He then backed it up during the final round against Andy Schmidt in an all NCRC Final. Schmidt stood his car up hard when he gave it all it had, and Booze rocketed down the track with a new class record pass of 8.359@160.59 (ET Slip) - Heck of a way to end the season!.
Incrementals on the record breaking Pro Stock pass were:
1.168 60'
3.418 330'
5.328@129.06 660'
6.965 1000'
8.364@160.54
Congratulations Charlie on the new Record and Championship; also to Andy on the race R/U finish!
Don Baskin also finished the NMCA Season with his second Mean Street Championship! Don qualified #1 at Indy with a 9.89@132 but had troubles during eliminations, regardless he had plenty of points to capture the season championship!
Congratulations Don on the 2011 NMCA Mean Street Championship!!!
Posted in Racing News - October 10th, 2011
MORRIS WOODY WAGON GOES 4.66@162 FIRST HITS
3600 lbs of Battlewagon goes 4.60's off the trailer
S
teve Morris of Steve Morris Engines took his Heavy Chevy (as in 3600 lbs) Procharged Wagon to SGMP for the No Mercy Radial Revolution race October 15th and made some impressive initial passes.
Steve pushed the wagon to a 1.19 60', 3.14 330', 4.66@162.97 pass on 315 Radials, which was his FIRST pass with a new EFI system on the car. Imagine what that setup would do in a lighter car!
Morris broke the transmission on the next pass, along with a rocker and lifter so he was done before he really got started at this event, but he says it's got easy 4.50's in the combo, and we certainly don't doubt him!
Stay tuned to Steve Morris Engines to see what the Big Wagon will do when he gets it all repaired...
Very Impressive Steve!!
Posted in Racing News - October 19th, 2011
SHAHAN LAYS DOWN A 5.10 PASS N/A!!
Resets Hot Street Record in Arkansas
B
obby Shahan of Shahan Race Cars driving Ray Nosler's Maroon 95' Mustang got everyone's undivided attention October 1st when he went 5.10@135 with a Naturally Aspirated Small Block Ford during Prescott Raceway's N/A Hot Street Shootout. Nosler's 2820 lb 440" Single 4 barrel, BES Powered Small Block running on a 28x10.5 tire probably set a National Record of some sort, part of the crazy fast run was due to some great fall air but anyway you slice it, that's super fast for a naturally aspirated small block! Ray's running NCRC's 8" All Billet Converter, which might have helped a little bit with that great 60's.
Bobby's incrementals on a 58° track were:
1.163
3.293
5.103

Congratulations Bobby and Ray on an amazing pass and a new Hot Street Record!
Posted in Racing News - October 5th, 2011
DAVIS VP RACING TOP SPORTSMAN KING
Wins 37th Annual NHRA Doorslammer National Open
Photo Courtesy Drag Illustrated
R
onnie Davis earned the VP Racing Fuel's King of Top Sportsman Shootout Crown at the NHRA Doorslammer Open at Ohio Valley Dragway October 1st. Davis, the NHRA Southeast Division 2010 Champion, defeated Belva Brinegar in the final on a red light start, DQ'ing Brinegar and allowing Davis's 4.332 on a 4.33 dial a clear win.
Davis was a last minute alternate into the 8 car field, he got his lucky break after Glenn Butcher suffered valve train problems and wasn't able to make repairs in time.
Congratulations Ronnie on the Win!
Posted in Racing News - October 5th, 2011
BLANKENSHIP 2011 HOT STREET CHAMP
Edges out Booze at NMRA Season Final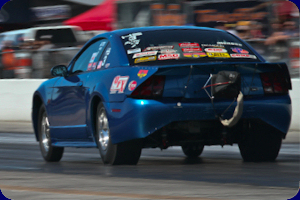 R
obbie Blankenship and Charlie Booze ended their season long competition for the Hot Street Championship at the NMRA Season Final in Bowling Green October 1st. These two have put on a heck of a battle back and forth all year long in the extremely competitive Hot Street Naturally Aspirated Class.
Charlie Booze started things off by capturing the #1 qualifier position with a 8.435@163.14, with Mike Demayo at #3 with a 8.478@157.74 and Blankenship at #4 with a 8.495@160.06 rounding up a very tight class prior to eliminations.
Robbie reached down deep and found some more ET after qualifying running a 8.385@158.39 in round one where he defeated Keith Courtney, while Booze got a bye 1st round. 2nd round, Booze got an easy win over Demayo who went red .057, and Blankenship put Bowles on the trailer with a blazing 8.400.
Final round was an all NCRC Final pitting Booze vs Blankenship for the championship. Charlie got the holeshot, but could not hold of Blankenship who drove around for the win 8.39 to 8.44. That win should put Robbie in the points lead for the season.
Congratulations to all our NCRC Customers in Hot Street on a great season! Extra Attaboy's to Robbie for the race win and (unofficial) 2011 Championship and to Charlie on his R/U!
Posted in Racing News - October 4th, 2011
TUTTEROW WINS AUTO PRO MOD SMACKDOWN
Runs 3.80's like a Bracket Car - Third Win in a Row
K
ing Tut got to try out his new 14-71 Roots Blower this weekend at the House of Hook Automatic Pro Mod Smackdown at Carolina Dragway. Needless to say, it worked pretty darn good as well as the rest of Tutterow's combination recording a 3.81@196.07 in qualifying which was plenty quick to grab the #1 qualifying spot. Todd was running his new 67 GT500 Shelby Mustang built by Larry Jeffers.
Tutterow, winner of the last 2 races in the series, then put the car in bracket race mode laying down multiple low 3.80 passes throughout eliminations where he lined up against Mike "The Hitman" Hill for an All NCRC showdown. Hill shook the tires in his new car and Tutterow laid down yet another 3.84 to take the win light - his third in a row and the first win for his new Mustang!
Congratulations to Todd and the WYO Motorsports Team!!!
Posted in Racing News - October 3rd, 2011
NCRC CUSTOMERS SHAKE THE HOUSE AT ADRL
Hossler Wins PX, McCrary Wins XTF,Adkins Wins PM, Moyer goes 209 - Ulsch goes 210!!!!
Q
uadruple WOW - Our customers flat ruled at ADRL's Race in Norwalk taking Three Class Wins, 2 class Runner Ups, and, for icing on the cake was a new, unofficial MPH record for a Turbo Car in XTF, and another unofficial MPH record for a blower car... it doesn't get much sweeter than that!
Pro Extreme
Photo Courtesy CompetitionPlus.com
Alex Hossler took home the win in Pro Extreme over Josh Hernandez in an all NCRC Final Round which was a tough one for both racers. Hernandez lit the ugly red bulb and about the same time Hossler's Belt broke on his Al-Anabi Racing 57 Chevy. The win will give Alex a shot at the "Battle of the Belts" at the World Finals.
We also want to give a shout out to Jason Scruggs who was the #1 qualifier with a 3.622!
Congratulations Alex & Al-Anabi Racing Team on the win, Joshua on the Runner Up, and Jason on the #1 Qualifier!
Extreme Ten Five
Photo Courtesy CompetitionPlus.com
Grant McCrary won his first ADRL Extreme Ten Five race at Norwalk the 2nd time with his new car! McCrary set a new personal best when he went up against the always tough to beat Chuck Ulsch and Team Mobley in a very close race. Ulsch went 3.887@210.08 and McCrary went 3.849@200.86 - talk about a close one! And check out the MPH for Ulsch on that run - 210 - almost 211, these cars are FLYING! The win also gets Grant a seat in the Battle For the Belts at the season final.
Todd Moyer, running NCRC "old school" technology blasted out a 209.20 pass during round one when he was racing Eric Stubbs. The pass didn't count as an official record either as he didn't get a chance to back it up and take the previous 206 mph record away from Chuck Ulsch, but unofficially, wow - that was awesome too!!! You know sooner or later he'll back it up and or better that MPH as the car still has a LOT left in it. NCRC Customers now hold the Extreme Ten Five ET Record (Dan Millen), the MPH Record (Chuck Ulsch) and the unofficial MPH Turbo Record (Todd Moyer), and an unofficial blower record at 210.08 by Chuck Ulsch.
Congratulations to Grant on his first ADRL Extreme Ten Five Victory, Chuck on his Runner Up and to Todd & Chuck on new unofficial MPH records!!!
Pro Mod
Photo Courtesy CompetitionPlus.com
Lee Adkins won the ADRL Pro Modified Class over #1 qualifer Pete Farber. Adkins set Low ET of the event in the final when he laid down a 3.903@191.59 easily defeating Farber's off pace 4.748@122.50. That car of Lee's is one of the Fastest Converter Driven Nitrous Cars on the planet and is the current NHRA A/PM record holder, it's also the first ever to win a ADRL Pro Nitrous Race.
Congratulations Lee!!!
Posted in Racing News -September 26th, 2011
OLSON & KROLL WIN MDRA 275 AT GLD
Kroll Wins Make Up Race - Olson Wins and is First to the 4's!!!
T
om Olson and Dan Kroll both had a winning weekend at the September 17th MDRA Race at Great Lakes Dragway in Union Grove Wisconsin. Dan was the first to record a win during the August Make Up race which was ran during the 2nd Round of Qualifying. He also ran a new personal best ET of 5.10!!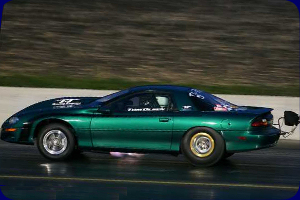 Tom Olson, aka Bonecrusher, in the Green Camaro recorded the first pass in the 4's for MDRA when he went 4.96@145 during qualifying. That made him first to the 4's in MDRA 275 Radial - darn quick for a Nitrous Small Block that wasn't at minimum weight! Kroll and Olson meet up in the all NCRC Final Round and the win went to Olson who went 5.16. Kroll had to pedal his Mustang, dashing his hopes for two in a row, but hey, you can never complain about getting at least one win...
Congratulations to Dan on the race win and new personal best, and to Tom on your win and Record Setting Pass!!!
Both racers run NCRC Converters and Transmissions built by Dave Klaput at Proformance Racing Transmissions
Posted in Racing News -September 26th, 2011
MANSON SCORES TWO 275 D/R CHAMPIONSHIPS
Wins MIR 275 and Ultimate Outlaws 275 Championship at the Same Time!
A
ndy Manson certainly knows how to work hard to win a championship, or two! The NMRA Heavy hitter won season championships in two classes September 17th at the Prichett Brothers Ultimate Outlaws Race at MIR, which was also a double points race for the MIR 275 Class as well. Manson and Crew Chief Chris Acor ran into a bit of a problem during Friday qualifying, they discovered the Boss 5.0 Mod Motor had cracked the block but still qualified 5th. With no time to swap engines it wasn't looking good, but instead of giving up and loading the car up, with nothing to lose, they decided to drain the water out and run her dry!
Well it worked! Andy ran a 4.90 first round, and in the second round he put it on the bumper causing him to pedal and slow to a 5.0 losing round. That was good enough though to put him over the top to win both championships that were on the line!
Andy says the championships wouldn't have been possible without the help of Chris Acor of Acors Performance, he is the main reason they team has done some well this year. It's been a busy year indeed, the team has racked up over 36,000 miles this year hitting races every weekend. That's the kind of hard work and determination that wins championships, and races. Andy also wanted to thank his sponsors, Quartermax, John Snde at Vortech, Mike Denny at USF Machine Shop, Dave Guy his tuner, Chris Acors, and noted it wouldn't have been possible if it wasn't for the fast overnight shipping at Neal Chance that sent him parts out a few days before the MIR Race.
Manson is hoping to run well at NMRA Beach Bend soon, he has a shot at points in that series as well!
Congratulations Andy on your Championships and good luck with the rest of the season!
Posted in Racing News -September 26th, 2011
SEXTON NEW OUTLAW 10.5 RECORD HOLDER
Team Mobley Runs 4.140@188.12 at Ultimate Outlaw Shootout & Wins!
Photo Courtesy DragZine.com
R
ichard Sexton and Team Mobley are the new Outlaw 10.5 Record Holders after this weekends Ultimate Outlaw Shootout at Maryland International Raceway. Richard recorded the recording breaking pass during the second round of eliminations when he was up against Dale Collins Jr. and ran a 4.140@188.12, breaking Tim Lynch's old record.
Sexton went on to the finals and defeated a redlighting TJ Kasper .078 4.159@187.63 vs Kasper's -.002 red 4.451@153.46 taking him to the winners circle to pickup the Ultimate Outlaws $5,000 purse!
Way to Go Richard & Team Mobley !!! Congratulations on the New Record!
We also want to give a shout out to Chuck Ulsch and Team Mobley for #1 Qualifier with a 4.148@186.98, that's flat hauling and they're making big strides with the Camaro!
Posted in Racing News -September 19th, 2011
BALES FIRST TO THE FOURS IN OTT5 HOT STREET
Sets New Low ET 4.99@ Hot Street Record
B
ob Bales won the race to be the first to the 4's September 10th at the Oklahoma True Ten Five race at Tulsa Raceway Park. Bob qualified #1 in Hot Street and ran a 4.99 during eliminations and made it to the semi's before a slow light ended his evening early.
This is Bob's first year with his Fuel Injected, Single Fogger BBC and he's got it running pretty darn good already! Take a look at the incrementals on that run...
1.19 60'
3.27 330'
4.996@144
The Black Bird is certainly working!
Congratulations Bob on the new OTT5 ET Record!!
Posted in Racing News -September 13th, 2011
TAYLOR & MILLEN WIN DRAGSTOCK VIII
Scrugg's & Ulsch Runner Up in All NCRC Final Rounds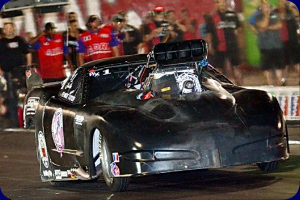 Photo Courtesy ADRL.us
F
rankie Taylor scored a big win in Pro Extreme at the ADRL Dragstock VII in Rockingham September 10th. Taylor, the class record holder, put his black Vette in the #1 qualifier spot with a scorching 3.597@210.70, closely followed by Joey Martin in the Lowmad with a 3.666, and Jason Scruggs came in at #3 with a 3.669 - all three NCRC customers laid down impressive passes in qualifying!
It was Taylor vs Scrugg's in a very close all NCRC Final Round - Scrugg's laid down a hole shot with a .016 light over Taylor's .082, but Taylor pulled ahead at the lights running a 3.622@210.47 vs Scrugg's 3.669@205.0 - wow what a close one.
Congratulations to Frankie Taylor on the win and Jason Scrugg's on the R/U! Well done guys!!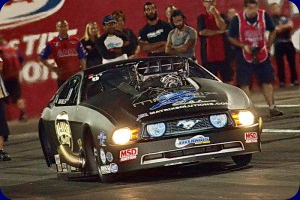 Photo Courtesy ADRL.us
Over in Extreme 10.5 Dan Millen again proved unstoppable in another very close final round. Millen the #1 Qualifier (3.889@197.94) and ET Record Holder was challenged by Chuck Ulsch, current XTF MPH Record Holder and #3 qualifier paired up for an exciting All NCRC final. Millen got out first with a .019 to Ulsch's .061, and Ulsch couldn't run him down. Millen went 3.855@201.46 to Ulsch's 3.915@205.76 for the win.
Congrat's to Dan Millen on the win, and Chuck Ulsch on the R/U!!!
NCRC also wants to give a shout out to John Decerbo who Runnered Up in Pro Nitrous, and to Ronnie Davis #1 Qualifier in Top Sportsman!
Posted in Racing News -September 12th, 2011
SEXTON YELLOWBULLET OL10.5 WINNER WITH HALL R/U - GEORGE WINS BIG TIRE!!!
NCRC Winners at YellowBullet Nationals
Photo Courtesy DragZine.com
R
ichard Sexton and Mobley Motorsports took home the big $10,000 check in Outlaw 10.5 class at the 2011 YellowBullet.com Nationals.
Sexton set the pace early by running a dominating 4.176@184.35 in qualifying to land the #1 spot. Mobley Motorsports set up the Screw Blown GTO well, as they put a string of consistently fast passes together through eliminations to wind up opposite another NCRC hardcharger, Mo Hall, in his Nitrous 94' Camaro.
Sexton got out first and was impossible for Hall to catch when he went 4.26@182 vs Hall's off pace 4.85@115 putting Team Mobley in the winners circle. Hall didn't have a bad day either picking up $5000 for his runner up finish!
Congratulations Richard & Team Mobley Motorsports on the big win and Mo Hall on the R/U! Great job guys!
Photo Courtesy ProMedia
Mitch George wheeled Jack Boer's 640 ci 84 Monte into the winner's circle in the Outlaw Big Tire class! George qualified in #3 spot with a 4.607@155.87 and put together a nice string of consistent passes during eliminations to carry him to the final.
Despite a cubic inch disadvantage, in the final round Mitch chopped the tree down with a .013 light getting out first against Sam Gottier in his 762 ci powered Chevelle and ran 4.57@155 to Gottier's 4.60@157.
Congratulations on an Awesome Win Mitch and Jack!!
Posted in Racing News -September 5th, 2011
NMCA MILAN CLASS WINNERS
7th Event in Series yields 3 Class Winners
Photo Courtesy StreetLegalTV.com
R
obbie Blankenship stretched his lead in points out over Charlie Booze Jr. in Comp Cams Pro Stock. Michael Demayo appeared to be going to give Blankenship a run for his money in the final at Milan after running some very salty 8.45's and 8.56's in eliminations but he unfortunately broke in the "All NCRC" final against Blankenship who laid down his best pass of the day with a 8.48@158.00. It's going to be tough for Booze to catch Blankenship in points this late in the season.
Congratulations Robbie on another well earned win!
Photo Courtesy StreetLegalTV.com
Over in Drag Radial Georgina Buckley from Lakeville, IL racing her first time in NMCA Drag Radial defeated Jason Lee with a 8.35@189.36 to Lee's off pace 8.55@173.78.
Way to go Georgina and Dave!
Photo Courtesy StreetLegalTV.com
In Mean Street Don Baskin qualified #1 and captured yet another win in NMCA Mean Street at Milan. Don defeated Shawn Johnson in the final round with a 9.907@132.61 vs Johnson's 10.029@132.55 which stretched Don's points lead out even further. Before Milan, Baskin lead with a huge 1025 spread over the #2 in points Gary Duncan putting him solid in the lead for the 2011 Mean Street Championship.
Congratulations Don and another big win!
Posted in Racing News - August 29th, 2011
SCRUGGS & MILLEN CAPTURE VIRGINIA ADRL WINS
ULSCH RUNNERS UP IN ALL NCRC XTF FINAL ROUND
Photo Courtesy ADRL
T
wo time ADRL Pro Extreme Champion Jason Scruggs took home his first victory this year at Virginia with a win over Mick Snyder, and he ran a new career best ET when he beat Jason Hamstra in the semi finals with a 3.64.
NCRC Headliner Frankie Taylor set the pace in qualifying with a 3.626@207.43, with Scrugg's right there behind him with a 3.648@205.51. Low ET in Qualifying didn't give Frankie a clear pass to the finals however, he got taken out in the 1st round when he ran an off-pace 3.775 against Janis. Scruggs however did take his efforts all the way to the winners circle when he blasted a 0.053, 3.630@206.70 to Snyder's 0.046, 3.691@206.35 for the Pro Extreme Win.
Congratulations Jason and Team on getting back to the Winners Circle and your new Low ET!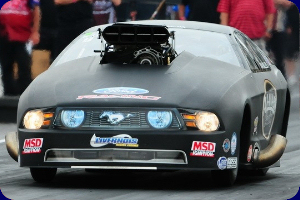 Photo Courtesy CompetitionPlus.com
Dan Millen, the #1 qualifer edged out #2 qualifier Chuck Ulsch in the final round of Extreme 10.5 at the ADRL Richmond, Virigina Race. Ulsch, who recorded a blazing 205.01 pass in qualifying, gave Millen a serious challenge in the "All NCRC" final round. Millen went 3.883@198.03 to Ulsch's 3.897@198.52.
Millen jumps into the #1 spot in points with this race win, his second in the last three races, and bumps Billy Glidden into the #2 spot.
Congrat's Dan on the Win and Chuck / Team Mobley on the R/U!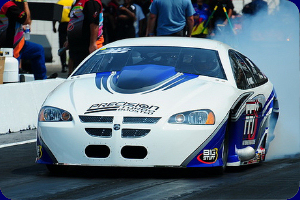 Photo Courtesy ADRL
We also want to give a shout out to Grant McCrary who made it to the Semi's in his new car, running some old school NCRC Technology which was good enough to put him well into the three's first time out running ADRL. He went 3.969/199.14 during qualifying! No doubt Grant's going to shake things up in the class as he continues to get the new car lined out.
Posted in Racing News - August 18th, 2011
BLANKENSHIP & BASKIN WIN NMCA BOWLING GREEN
Points leaders maintain their advantage
Photo Courtesy StreetLegalTV.com
R
obbie Blankenship took out Charlie Booze Jr. in the Pro Stock "All NCRC" final round. Booze got out first, but Robbie was able to run him down with a 8.53 to Booze's 8.76. Blankenship is in the points lead going into this race, and the win will certainly give him some more cushion going in to the fall season.
Congrat's Robbie on the win and Charlie on the R/U!
Photo Courtesy StreetLegalTV.com
Don Baskin was the #1 Qualifier and took home the win over his team mate, Benny Smith, in the final Round of NMCA Mean Street.
Don's got a very solid lead in points in Mean Street and looks to be coming back for another championship in the class.
Congratulations Don on your #1 qualifier and race win!
Posted in Racing News - August 18th, 2011
SKINNY KID DUMPS HIS CLUTCH
Switches to NCRC Billet Converter, now in the 5's!!!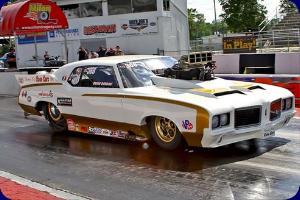 Photo Courtesy SKRC
S
kinny Kid Race Cars from Commerce, Michigan dumped their clutch and switched over their Famous Hurst Olds to the NCRC All Billet Converter in July and have been making very good progress. The Big Olds went 3.87 at the ADRL Martin Race qualifying 13th but was having some issues at launch. Later at Milan it ran a 5.96 laying down a .947 60' and had to pedal it downtrack. Incrementals were .947, 2.65, 3.95@194 - not too shabby for a 2700 lb car!
No doubt SKRC will be working out the tune up details over the next few weeks and continue to improve.
Congrat's Keith, Brian and the SKRC Team!
Posted in Racing News - August 17th, 2011
TUTTEROW TESTS NEW MUSTANG
Runs 3.68@209 on 4th Pass - New Track Record!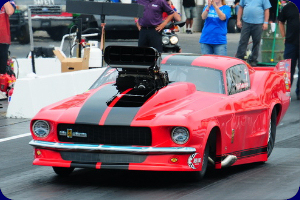 Photo Courtesy ADRL
T
odd Tutterow debuted his brand new Jeffers Pro Cars 1967 Mustang at Farmington Dragway August 6th. On it's 4th pass it laid down an impressive 3.68@209.95 breaking the track record at Farmington!
Tutterow took the new car to the ADRL Virginia race August 14th and laid down a .914 60', took out Mike Janis in Round 2, and made it to the Semi's in Pro Extreme. That's a pretty darn good achievement for a brand new car! We have no doubt you'll see this car in the final round sometime later this year...
Posted in Racing News - August 16th, 2011
BLANKENSHIP & VON AHNEN GRAB CLASS WINS @ NMRA MILAN
NCRC Customers take home 2 wins and 2 runner ups!
Photo Courtesy NMRA
R
obbie Blankenship was on his game at NMRA's Milan, Michigan Shootout July 24th. Blankenship set Low ET and Top MPH in the Hot Street Class when he ran 8.5631@161.80 landing him the #1 qualifying position. He must have been chugging Monster drinks all day as when he faced the 2010 Champion Charlie Booze in an All NCRC Final Round, he absolutely killed the tree with a .005 light running 8.594@157.81 to Booze's 8.616@152.97 and decent .024 light.
Congratulations to Robbie on the Hot Street Win & Low ET, and to Charlie on the runner up!
Photo Courtesy StreetLegalTV.com
In Pure Street the Team of Alan and Dave Von Ahnen took home their second win of the season making Von Ahnen 2 for 2 since switching to NCRC! Alan was also the #1 Qualifier with a 10.18@130 and almost took the class record away from Brandon Alsept during eliminations where he recorded strong passes every round. In the finals Alan found himself facing Mike Winters, another strong competitor in Pure Street. Winters got out first, but Von Ahnen reeled him in with a strong 10.201@131.18 vs Winters 10.409@131.23 effort.
Congratulations on the win Alan and Dave!
We'd also like to give a shout out to Andy Manson who runnered up in Drag Radial against Jason Lee. Andy got out first in the final but had to lift which let Lee get around him. Andy's been running great this year with a win in Maryland and a clean sweep in Chicago.
Congrat's on the R/U Andy!
Posted in Racing News - July 28th, 2011
PRESTO WINS OSCA SUMMER SIZZLER
Tony "Presto" Basso Jumps to Lead in OSCA Outlaw 10.5 Points!
Photo Courtesy Mark Ackert
T
ony "Presto" Basso recorded yet another win in the Ontario Street Car Association's Outlaw 10.5 class July 10th at the Toronto Motorsports Park Summer Sizzler, the third race of the season for the series. Presto qualified 3rd running a 6.99 on a hot 137° track with thin 3900 ft air.
The 2010 Champion proved he knew how to race in tough track conditions by putting Mike Yegarian on the trailer first round, and defeating John Carinci in the final round of eliminations! The Race win gave Tony the points he needed to jump back into the OSCA points lead at midseason, placing him in excellent position to get another championship.
Congratulations on the win and points lead Tony!
Posted in Racing News - July 16th, 2011
KASPER WINS AGAIN AT ULTIMATE OUTLAWS
Wins Outlaw 10.5 & records highest mph of event!
Photo Courtesy ClickClickBoom Photography
TJ
Kasper took home another big win at the Pritchett Brothers Ultimate Outlaw Shootout at Cecil County July 9th. He laid claim to the top MPH of the race during the 1st round laying down a 4.39@186.46 over Lou Sciortino. The next round he took out Billy Gordon, then Michael Martin in the semi's landing him in the final against Jason Enos.
In the finals TJ chopped the Tree down on Enos and defeated him with a 4.30@179.68 to Enos's 4.28@184.17, margin of victory was .05! Wow, that was close race...
Congratulations to TJ on a great win!
Posted in Racing News - July 12th, 2011
TJ KASPER WINS CECIL MAKE UP RACE
Gets taken out by Dad in Round 3 Father/Son Duel
Photo Courtesy ClickClickBoom Photography
TJ
Kasper won the Outlaw 10.5 Make Up race from June during qualifying at Cecil's July 2nd race. It was a match up with Steve Gorman that was run during qualifying to deceide the final round they didn't get to finish last month. Kasper went 4.43@180 over Gorman's spinning 6.28@81 attempt on a hot track. He went on to qualify #2, and his Dad, Tom Kasper qualified #3, also with a 4.43.
TJ made it to Round 3 where he got defeated by Tom in a Father & Son duel, with Dad coming out on top with a 4.40@180 to TJ's spinning 4.96. Tom went on to the final round but left too early handing the win to Larry Wood. TJ is currently running #4 in points in Cecil's Outlaw 10.5 Class, and Tom is #2 with only 2 points seperating the two. We have a feeling Father and Son are going to be battling it out for the Cecil Championship this year!
Congratulations to TJ on the June race win and to Tom on his Runner Up finish!
Posted in Racing News - July 5th, 2011
MANSON NMCA/NMRA SUPERBOWL D/R CLEAN SWEEP
Manson, Blankenship, Booze and Von Ahnen Winners in Chicago
Photo Courtesy StreetLegalTV.com
A
ndy Manson had a rather spectacular clean sweep in the 275 Drag Radial Class at the NMCA/NMRA Super Bowl in Joliet June 26th. The Quartermax sponsored racer won the rained out Atco make up race, the NMCA 275 Drag Radial Class where he defeated Brad Medlock 7.74 to an 8.53, and he defended the NMCA by winning the Super Bowl against NMRA! Wow - that's certainly a heck of a good weekend and our hat's off to him!
Congratulations Andy!!
Photo Courtesy StreetLegalTV.com
Robbie Blankenship was another NCRC Customer that had a great weekend at Joliet. Blankenship was the #1 Qualifier with an 8.44@154, closely followed by Charlie Booze with an 8.47@158 which got him Top Speed in the combined Hot Street/Pro Stock class. Booze and Blankenship meet back up for an "All NCRC" final round and it was Blankenship that came out on top in a nail biting finish, Booze ran 8.58 with a .012 light, and Blankenship ran 8.55 with a .015 light.
Congratulations to Robbie for the win and Charlie on the Runner Up!
Photo Courtesy StreetLegalTV.com
The Mean Street Team of Alan and Dave Von Ahnen took home a nice win in NMCA Mean Street. Alan qualified #2 with a 9.919 but laid claim to top speed of 133.74, just in front of Don Baskin who ran a 9.94. Baskin and Von Ahnen meet up in the semi's where he beat Don on a holeshot 10.00 to 10.03. Alan went on to defeat Gary Duncan in the finals with both a quicker reaction and quicker ET. Duncan's 10.67@127.44 was no match for Von Ahen's 10.46@131.46.
Congratulations Alan and Dave!
Posted in Racing News - June 30th, 2011
PRESTO BREAKS OSCA OUTLAW 10.5 RECORD
Tony "Presto" Basso New OSCA Record Holder
Photo Courtesy Mark Ackert
T
ony "Presto" Basso broke the OSCA Outlaw 10.5 record May 29th when he laid down a 4.49@165 blast at Toronto Motorsports Park, which he backed up with a 4.50. Basso, the 2010 OSCA Chamption ended up winning the event which moved him up to #2 in the points standings and a clear shot at another Championship this year. Tony also ran a career best pass of 6.88@210 during qualifying at OSCA's last race on June 19th!
Tony races a sharp looking 1967 Chevy II powered by a 526 Al Billes Blown Hemi, NCRC Converter, and a 3-Speed Lencodrive passing all that power to the rear.
Congratulations on the win and new record Tony!
Posted in Racing News - June 28th, 2011
MARTIN & MILLEN SCORE ADRL WINS
Joey Martin wins Pro Extreme & Dan Millen wins Extreme 10.5

Photo Courtesy ADRL
J
oey Martin and Toney Russel took home their second ADRL win this season at the Topeka, Kansas race June 18th. The Russel owned Lowmad Team qualified #1 with a 3.653@204.35, closely followed in the #3 spot by Frankie Taylor at 3.685@203.16.
Joey defeated Jason Hamstra in the final round with a 3.652@205.98, a new track record for Topeka and almost a tenth faster than the 3.736@204.94 effort by made by Hamstra. Both were some very exceptional ET's in the summertime heat for both racers!
Congratulations Joey, Toney & Team Lowmad!
Photo Courtesy ADRL
Dan Millen, the 2010 XTF Champion, scored his 1st win this season at Topeka as well. Millen was also the #1 qualifier in XTF with a strong 3.926@195.19. Millen also reset the track record in the final round when he defeated Lamar Swindoll Jr. with a strong 3.95@195 pass over Swindoll who got loose and crossed the centerline.
Congratulations Dan and Team Al-Anabi!
Posted in Racing News - June 20th, 2011
JOHNSON GOES 7.04@192!!
New Outlaw Drag Radial Record during test at MIR
Photo Courtesy Maryland International Raceway
F
rancis Johnson is getting REAL close to being the first to break into the 6's with a Nitrous Powered Drag Radial car. June 15th during a test session at MIR, the Bright Red Bird went 7.045@192.96 which we believe is a new record for N2O ODR using the NCRC All Aluminum Converter. His incrementals were -
1.107 60' (wow)
2.995 to the 330
4.548 1/8 at 158.41
5.894 1000'
7.045 @ 192.96
No doubt he's going to break into the 6's VERY soon when the conditions are right!
Way to go Francis!!
Update: 6/18/11: Johnson goes 4.529@159.10 with a 1.104 60' at MIR!
Posted in Racing News - June 16th, 2011
NMCA RECORDS FALL AT MARYLAND
NCRC Customers take home 3 class wins & break 2 class records!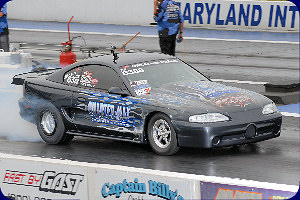 A
ndy Manson broke the NMCA 275 Drag Radial MPH & ET Record at the Maryland Race during qualifying by running a blistering 7.539@184.85 with an NCRC All Billet Converter. He went on to defeat Jason Lee in the final round in a close race 7.593 to Lee's 7.595.
Congratulations Andy on setting the new NMCA Class Record and the Win!!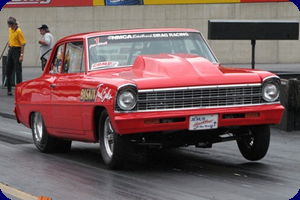 Photo Courtesy Street Legal TV
Don Baskin from Covington, TN certainly had a great racing weekend on June 5th at the NMCA Maryland Race. The 2010 Mean Street Champion took home wins in both Pro Stock and Mean Streat! In Pro Stock he defeated Robbie Blankenship in a All NCRC Final Round with a great holeshot on Robbie, who also spun the tires allowing Don to take the win with a 8.480@157.56.
We also want to give a shout out to Robbie Blankenship who reset the NMCA Pro Stock ET & MPH Record at this event with a 8.375@159.25 during qualifying!
In Mean Street Baskin easily defeated Alan Von Ahnen who did get out first, but didn't have enough to hold of Don's Chevy II, Alan went 9.97 to Don's 9.88.
Congratulations Don on your Wins & Robbie on the new Class Record and R/U!
Posted in Racing News - June 10th, 2011
COWGER BREAKS TEXAS PRO STOCK RECORD
Team C/W runs a 4.527 for new record in TPSA Xtreme
Photo Courtesy Texas Borderline Photo / TPSA
A
t Dallas Raceway on May 14th, Rick Cowger and Team C/W set a new record for Texas Pro Stock with a 4.527 and recorded a one flat 60' !! That's pretty impressive, especially for a new car. The Team followed the record up with a win in TPSA Xtreme on June 4th setting Low ET with a 4.5874 and defeated Joe Pigford in the final 4.58@151.06 to Pigfords 4.62@150.00.
Texas Pro Stock Xtreme Class is a N/A, 585 ci, Single 4, Conventional Head class running in tube frame chassis cars and they fly!
Congratulations Rick and Team C/W!!!
Posted in Racing News - June 9th, 2011
KIMMIS WINS NHRA UNLEASHED OUTLAW 10.5
Takes home Wally in the Heat at Tulsa Raceway Park
T
ulsa Raceway Park was a scorcher on June 4th with temps in the near 100 range and track temps hitting 150, but those conditions didn't deter Mike Kimmis from ripping through the ladder and taking home his first Wally! Kimmis from Lebanon, Missouri defeated Steve George from Arnold, Missouri in the final round of Outlaw 10.5 with a 4.62@166.13 vs George's 4.63@156.14. Both racers were running far below potential in order to get down the hot track, the trick being "how" far down to turn them, and Kimmis got it figured out just right...
Congratulations Mike!!
Posted in Racing News - June 9th, 2011
DANILUK GOES 4.09/6.36 N/A IN NHRA TOP SPORTSMAN
First Pass of the year lays down a .951 60' off the trailer!
B
arry Daniluk made some impressive runs at the May 28th NHRA Division 6 Race in Mission B.C. including some stunning 60' times. The Red Deer, Alberta Canada racer recorded a .951 60' on the first pass of the year testing and ran 4.09@173 to the eighth, and 6.36@217.40 in the quarter to record his new personal best pass. Barry said there worst 60' for the weekend was a .968 and even he was impressed especially with the rough track surface that had lots of rain on it.
Barry's 68' Bickel Camaro is powered by a Naturally Aspirated Ron Miller 832 with an NCRC All Billet Converter and a Rossler Transmission. That's flat getting it with a N/A engine in anyone's book... Barry says there's more in the Camaro and we fully expect to seem him continue to drop ET later in the year with more tuning.
Congratulations Barry!
Posted in Racing News - June 9th, 2011
SOMETHING WICKED THIS WAY COMES...
NCRC Testing New Advanced "SoftLock" Design
Another industry first from NCRC, the same company that introduced the World's First Bolt Together and First All Billet Torque Converter
L
ate last year Neal Chance Racing Converters began a new series of design changes in our final push to "Kill the Clutch". After years of continual improvement, the latest All Billet Converters have proven their worth by capturing numerous World Records and Championships in every class of door slammer racing by being able to outperform the clutch (and other converters) on the front half of the track.
However, clutch cars could still typically out mile per hour our designs due to slippage. Of course, Drag Races are won by ET, not MPH, so our customers were winning... But we always thought we might be leaving a little bit on the table on the top half of the track, so design development was started so that our customers can put the final nail in the clutch's coffin...
In the coming months ahead, Neal Chance will be releasing our new SoftLock Technology to our customers available as an upgrade, or built into a new converter. SoftLock was designed in house from scratch using the latest in Computational Fluid Dynamics combined with our in house CAD/CAM that let us develop a entire new design of internal components that offer adjustable rates of lock up by design, not accident.
SoftLock is not based on antiquated OEM Technology that destroys everything downstream in the driveline like the transmission and the rearend, it's a fresh new design that we can adjust to suit the car combination. That's right, this is NOT a one size fits all design. We can create custom internal components and rates of lockups to suit different car combos because what works for a Turbo car isn't necessarily the fast ticket for a Blower, or Nitrous car.
The first tests of the new SoftLock Technology have been completed with, frankly, stunning results! Tests on a well known, but top secret combo yielded data we needed to make sure we were on the right path and a few things we needed to tweak. Over the next few weeks, more testing will be conducted on state of the art cars (Sorry, we're not saying who at this point) to get more data and full scale production will start SOON.
To sum the new SoftLock design up for you real quick - "Get on Board, or Get out of the Way".. If you don't have a Neal Chance, you don't stand a Chance!
From the folks at Neal Chance Racing Converters - Break Records, not Parts!!!
Posted in Products - May 16th, 2011
TAYLOR & DECERBO RESET ADRL RECORDS
NCRC Customers break records at ADRL Maple Groove in Pro Extreme and Pro Nitrous
Photo Courtesy of Dragracecanada.com
Joey Martin and Fankie Taylor both broke the ADRL Pro Extreme record at Maple Groove during the Penske Truck Leasing Inaugural Northeast Drags on May 7th. Joey started the record smashing on Friday when he laid down a 3.584 and backed it up Saturday with a 3.596 in the mid-day sun. Frankie, not to be outdone, followed suit and laid down a slightly better 3.581 on Friday, and backed it up as well on Saturday edging out Martin's brief 6 hour record holding title.
Martin ran out of chances to snatch the record back from Taylor when the Famous Lowmad Wagon encountered starter problems in the first round. You can bet the Lowmad will be back to retake that record soon enough! Taylor got knocked out by Todd Tutterow in an all NCRC second round, but he certainly gets some points for breaking the record. Unfortunately delays prevented Pro Extreme from finishing this race.
Congratulations to Frankie & Joey both on your record smashing performances!
John Decerbo set a new record for ADRL Pro Nitrous with an Automatic this weekend at the ADRL Maple Groove Race. John went 3.834@190.35 during qualifying. Decerbo, the #6 qualifier shook the tires in the first round ending his day way too early but we know he'll be back. John's previous personal best was a 3.87, and he keeps chipping away at his ET - at this pace he'll be in the 3.70's before you know it!
Congratulations on the new Pro Nitrous Auto Record John!
NCRC Headliner Chuck Ulsch and Mobley Racing picked up where they left off running some very good numbers in Extreme 10.5. Ulsch captured the #1 Qualifier spot with a 3.95, then set Low ET & Top MPH for the race of 3.898@204.94 when he defeated Lamar Swindoll during the semi-finals. 2010 Champion Dan Millen was also running very strong after recovering from a fire at the previous ADRL race. Millen defeated Frankie Taylor during the semi's with a 3.90@201.07 over Taylor's 4.09@184.70. If the rain didn't cause problems it would have been a all NCRC Final Round between Ulsch and Millen.
Posted in Racing News - May 9th, 2011
MARTIN CLEAN SWEEPS ADRL PRO EXTREME
Team Lowmad proves unstoppable at Palm Beach
Photo Courtesy CompetitionPlus.com
W
e knew it was going to happen, we just didn't know "when" the stars would all line up at the same time for the Lowmad Team of Joey Martin and Toney Russell. Our suspicions were correct, as this last weekend Joey Martin, driver and Chassis Builder for Team Lowmad, pulled a CLEAN SWEEP in ADRL Pro Extreme in front of an overflowing crowd at Palm Beach International Raceway.
Not only was the win remarkable, but Team Lowmad really made a point of it...

First Pro Extreme to run a 3.6x every pass in qualifying.
Quickest Pro Extreme in every round.
Number 1 qualifier with a 3.642@205.35.
Set PBIR track record (He also holds the track record in Houston).
Set New ADRL 60' record of .904.
Pulling off a spectacular win was no cakewalk for the Team as they definately had to thrash during eliminations, competitors Jason and Mitchell Scruggs even lent a hand helping out to get the car turned around.
Congratulations Joey, Car Owner Toney Russell and the Lowmad Team on a new Record and the First Pro Extreme Win!
In other ADRL news, NCRC Headliner and #1 Qualifier Dan Millen suffered a terrible fire in Extreme 10.5 when his engine let go during the semifinals, luckily he escaped unharmed but the car on the other hand will need significant repairs. Millen did win the round even while on fire!
In Pro Nitrous, John Decerbo go to the semifinals in Pro Nitrous and recorded a 3.87 at this race, which is a new personal best for John! He's getting the new combo figured out and going rounds!
Posted in Racing News - April 18th, 2011
JOHNSON SETS NEW 60' RECORD IN OUTLAW D/R
Wins Outlaw Drag Radial at Maryland International Raceway
Photo Courtesy Maryland International Raceway
M
aryland International Raceway held their 1st Midnight Madness Race on April 15th, the air temps were cold, and so was the track but that didn't mean it wasn't hooking. In pre-race passes, many cars were standing up thanks to the great track prep MIR did.
Francis Johnson and Team found the perfect setup during the second round of qualifying laying down a 4.676@153.42 ground pounding pass to nab the #1 Qualifying position, but get this, they recorded a 1.107 60 ft ET - a new record for a Outlaw Drag Radial car!!!
Johnson held his ET advantage throughout eliminations, he even recorded a 4.656@156 over Kevin Mullins in the Semis when Mullins stood it up big time. In the final Francis meet up with Bobby Flippen and defeated him with a 4.779@152.55 to Flippens 5.005@137.99.
Congratulations Francis and your Team on a new Record and the ODR Win!
Posted in Racing News - April 16th, 2011
NMCA BRADENTON SEASON OPENER WINNERS
Bucaro, Booze and Baskin Triple Win at NMCA 1st Race
Photo Courtesy StreetLegalTV.com
J
oe Bucaro launched his 2011 season off with a great start by taking home the win at NMCA's Bradenton race in Nostalgia Pro Street. Bucaro consistently laid down passes in the low 7.30's throughout eliminations and slapped a holeshot win on Chuck Demory in the final round with an .046 light to Demory's .121, Joe put down another 7.316@181.37 to take home his first NMCA win of the season.
Congratulations Joe!!!
Photo Courtesy StangTV.com
Over in Pro Stock, Charlie Booze mowed through his competition to take his second win of the season. Hot on the heals of his previous NMRA win in Hot Street, Charlie defeated fellow NCRC Customer Michael DeMayo in an ALL NCRC Final Round. Booze cut a good light and ran 8.509@159.37, proving too quick for DeMayo's 8.645@158.89.
Congratulations Charlie on your second win of the Season, and to Michael DeMayo on your R/U!!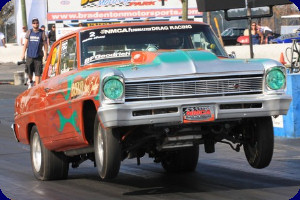 Photo Courtesy StreetLegalTV.com
Don Baskin had a bit of luck go his way at Bradenton - He qualified #1, which was a very good position to be in as it got him a bye run in round 1. That was important as his 67 Chevy II broke on the single, but he still broke the beams giving him a chance to make repairs before round 2. That gave the 2009 Mean Street Champion a chance to make repairs and he came back strong in the 2nd round, laying down a 9.94@124.18 over a redlighting David Hill who ran 10.388. Don continued on and defeated Gary Duncan in the final running an even faster 9.835@133.74 over Duncan's 10.572@125.19.
Congratulations Don on your first win of the season!
Posted in Racing News - March 30th, 2011
NCRC CHAMPS GET BIT BY RED LIGHT BUG AT BAYTOWN
ADRL Season Opener in Baytown Texas was a Redlight Magnet
Photo Courtesy DragZine.com
J
oey Martin had a stellar weekend and was in hot contention to go to the finals but had difficulties in the 3rd round loosing to Todd Tutterow in an ALL NCRC match up. Joey recorded a 3.667@@206.64 in the 2nd round of Pro Extreme, the quickest pass of the race! We fully expect to see Joey and Lowmad visiting the winners circle sometime this year, he has that Wagon flying!
Also in Pro Extreme Todd Tutterow, fresh off his 2nd place finish in the QRC Battle for the Belts was making a hard charge to the final round. Tutterow made it all the way to the finals against Jason Hamstra, but unfortunately drew a ugly red light, dashing his hopes on a win at the season opener. You can bet Todd will be back in contention at the next race at Palm Beach April 15th.
In Extreme 10.5 NCRC Customer Dan Millen found his groove and laid down the fastest passes in qualifying landing him the #1 spot with a 3.830@203.34. The 2010 Champ also got bit by the red light bug during the first round, ending his day early just like Tutterow but he still ran a 3.893 - the only car in the 3.80's during eliminations. We were happy to see NCRC Customer Eric Stubbs join the ranks in Extreme 10.5, Eric was laying down some good numbers in his beautiful new Vette.
In Pro Nitrous, John Decerbo also got bit by the red light bug in the 2nd round loosing to Jim Halsey who only ran a 5.060, while Decerbo laid down a new personal best of 3.890. That pass certainly shows they are definitely getting the new combo figured out. We would also like to give a shout out to Doug Riesterer who qualified an impressive #3 with a 3.843@191.24 - that's hauling the mail!
We would certainly like to be congratulating everyone for winning, but it appears Baytown carried with it a bit of bad luck for our NCRC customers regardless of their impressive performances. Hopefully the Red Light bug will get squashed before the next event!
Posted in Racing News - March 29th, 2011
HASS BREAKS NHRA COMP. ELIMINATOR RECORD
NHRA B/AP Record Broken at No Problem Raceway
B
ob Hass from Houston, Texas dropped us a line to let us know he broke the NHRA Competition Eliminator Record in B/AP March 18th in Belle Rose, LA at No Problem Raceway. Bob was there running the Jeg's NHRA Cajun Sport Nationals and ran the record setting pass in qualifying when he went 7.181@ on a 7.82 Index, .639 under!
Bob said "We wanted to let you know how GREAT your converter is working for us & THANK YOU!" - he also said they have a little left in the Dodge Stratus, so watch out!
Way to go Bob!
Lee Adkins another NCRC customer was also there running in Automatic Pro Mod, and he was the #1 Qualifier with a 6.19@212.73, .770 under the index, recording a .985 60'. Unfortunately Lee didn't have a good run in round 1, he ran off the end off the track due to a malfunction which ended his day early.
Congratulations Lee on the #1 qualifier - to bad about the hard luck in the first round.
Posted in Racing News - March 28th, 2011
NMRA BRADENTON NCRC WINNERS
First Race of the 2011 Season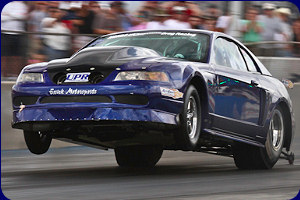 Photo Courtesy StangTV.com
T
im Essick captured his first win of the 2011 Season right at the season opener - what a grand way to start the year. Essick, the 2007 Pro Outlaw Champion, qualified #1 with a 6.850@210 edging out NCRC Headliner and NMRA 2010 Champion Conrad Scary, who laid down a 6.942@215.36 for the #2 spot. Scarry and Essick met up again in a all NCRC Final Round, this time with Essick having the upper hand during a troublesome pass for both competitors. Scarry lost power and left real soft, while Essick had the opposite happen, he blew the tires off and had to pedal at the 60'. While Scarry fought to wake his car up, Essick recovered and came out on top with a 7.562@201.43
Congratulations Tim and Crew!!
Photo Courtesy StangTV.com
Kenjo Kelley from Texas made the long haul to Bradenton to run in SSO, and he certainly made it worth his effort. Kenjo soundly defeated Phil Hines in the final with a 7.579@189.99 over Hines who had some traction problems running a 7.803@186.29
Congratulations Kenjo!!
Photo Courtesy StangTV.com
Charlie Booze, the reining 2010 NMRA Hot Street Champion, proved he didn't rest over the winter when he took the #1 qualifying position running a 8.469@154.18. Regardless of issues trying to keep the front end out of the sky, Booze still plowed through the competition on his way to the final round. Charlie defeated a redlighting Tim Eichhorn with a blistering 8.494 pass to take home his first win of the season in NMRA.
Congratulations Charlie!!
Posted in Racing News - March 12th, 2011
JOHN HALL GOES 3.90 - .967 60'!
Starting season out with killer ET's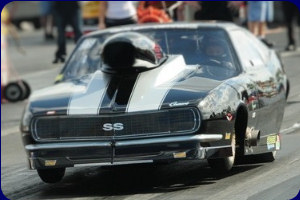 J
ohn Hall started the 2011 Season out knocking down some killer ET's at the Shakedown at PBIR. His Musi powered Camaro ran a 3.90@188 with a amazing .967 60' time during qualifying, extremely close to a National Record for a Automatic Pro Mod.
Unfortunately, John's beautiful Camaro suffered from a Nitrous Backfire on the starting line during eliminations, ending his chances to put the hurt to his competition at this event. We're sure they'll have the car repaired soon and be back out in the hunt quickly.
Congratulations John and Annette on your new personal best pass!!
Posted in Racing News - March 12th, 2011
MILLEN ADRL XTF WORLD CHAMPION
Win's Arabian Drag Racing League Series in Qatar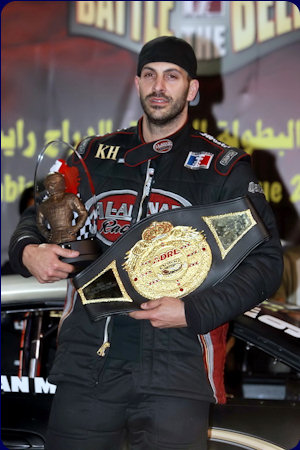 Photo Courtesy Drag Illustrated
D
an Millen set both ends of the Extreme 10.5 record and captured another Arabian Drag Racing League World Record in Doha, Qatar February 18th. Millen, the American Drag Racing League 2010 Champion, continued his bracket racer like consistency that worked in America earlier in the year 1/2 the way around the world in Qatar.
Once again back to back passes in the 3.80's were the secret to capturing the Battle for Belts prize consisting of $50,000 Championship purse, plus $25,000 for leading points and another $5,000 for setting both ET and MPH Records... That's quite the pay day!!
Dan dispatched David Hance in the semifinals with a 3.811, then in the final round he defeated Frankie Taylor in his Ex Pro Extreme Chevy Corvette for the Battle of the belts win. Millen ran another smooth 3.800@204.29 vs Taylor's 3.879@190.46 resulting in the fastest side by side race in Extreme 10.5 History.
Congratulations Dan and the Al-Anabi Racing Team!!!
Posted in Racing News - March 7th, 2011
BLOWN PRO MOD LEAVES HARDER THAN MOST FUNNY CARS
Martin & Russell - First Converter Doorslammer to the .8X 60 ft.!!!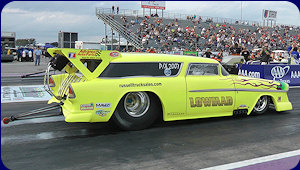 A
fter 25 years of continuous improvement in racing converter technology, Marty Chance can say Neal Chance Racing Converters has surpassed the clutch when it comes to getting a car to leave the line.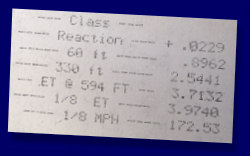 That fine line on the ET Clocks was broken last fall by an ADRL Pro Extreme car, the 55 Chevy Nomad nicknamed "Lowmad", which is driven by Joey Martin and owned by Toney and Fonda Russell. The Madison, Alabama based team broke into uncharted territory at the November 6th, 2010 Emerald Coast Dragway race in Holt Florida when they broke into the 8 tenths of a second range in the 60 ft. Specifically, they went .897 and came back around and did a .896 - a new 60ft World Record for a Door Slammer, and it was done with a Torque Converter!
Why does a few hundredths of a second matter? Because that ET makes this car, and potentially other NCRC converter equipped cars like it, able to leave just as fast as most NHRA Fuel Funny Cars which often 60ft in the .880 to .910 range - and .880 to .890 is fast even for those cars which make thousands more horsepower.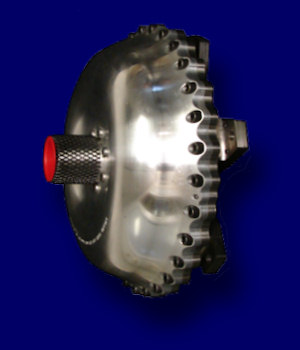 Joey Martin, Driver and Builder of "Lowmad" says "Clutches are for Dump Trucks!" and has the time slips to prove it. He also noted the ET's aren't a fluke. The 55 Wagon which he just finished updating with lightweight carbon fiber body typically 60's in the .90 range, which is blazing fast. It wasn't a diaper dragger either, you don't get a .022 reaction time if something like that happens. Joey and the Russell Racing Team are excited about the upcoming 2011 season and are ready for the competition.
The torque converter that helped set this new world record is far from ordinary, it's the state of the art in light weight converter technology capable of harnessing the 3000+ horsepower from a blown Pro Mod and couple it to the drivetrain in a hyper efficient manner. NCRC's Full Billet CNC Aluminum Torque Converters utilize an advanced 5 axis machined body and fins which are often up to 17 lbs. lighter than competitors steel converters.
You might ask yourself how can a car that has less tire and less horsepower leave harder than a Fuel Funny Car? The answer is torque multiplication, which is what a converter is designed to do and with less mass hanging off the crankshaft that has to be accelerated, the result is quicker ET's. The trick is how to make it work at today's insane power levels which the crew at Neal Chance have mastered remarkably well. If you're ready to "Dump your clutch", and get your car to leave like a Funny Car, give NCRC a call today!
Posted in Racing News - February 15th, 2011
NELSON WINS US STREET NATIONALS
Nelson wins L/S, Wells R/U in OL 10.5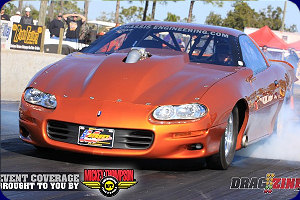 Photo Courtesy Dragzine.com
M
el Nelson busted off a win at his first race of the year at the US Street Nationals in Bradenton, Florida on January 30th. Nelson, the 2010 World Street Nationals Drag Radial Winner had a string of victories at the end of last year, and he's off to a great start to do it again this year.
Mel was the #1 Qualifier at Bradenton running a very strong 4.549@173.41 and consistently laid down runs in the 4.50's throughout eliminations. He recorded his only pass in the 4.60's when he took out Tony Ridenour in the final round 4.60 to Ridenour's spinning 6.87@77mph aborted pass.
Congratulations Mel!
In Outlaw 10.5, Rob Wells was #2 Qualifier with a 4.287@183.86 recording the Top MPH for the event, and ET just behind Danny Lowry. In the finals against Dan Saitz, Wells triggered the big red one by .003 automatically religating him to the Runner Up spot. A tough break in a close race, but you can bet Wells will be back in the hunt for the win very soon!
Posted in Racing News - January 31st, 2011
LONON AND SANCHEZ WIN AT TOMATO NATS
Lonon X275 Winner, Sanchez gets first Outlaw 10.5 win!
C
lint Lonon took home his first win of the season at the Immokalee Tomato Nationals January 23rd in the SHRA X-Treme 275 Class.
Lonon qualified #1 with a 5.08 and later during eliminations he laid down an even faster 5.04 peddling it to knock down a wheel stand. Pretty darn quick with a small block and single stage plate! During the final round he defeated Jeff Wallace and laid claim to the $1500 purse, plus racked up some decent points to start out the SHRA racing season.
Clint updated to the latest in NCRC Converter Technology late last year, helping make his car a hard one to beat in X275.
Congratulations Clint!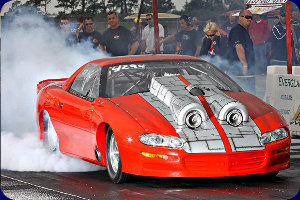 Photo Courtesy Chris Simmons / Lonnie Gautreau
In Outlaw 10.5 Candido Sanchez defeated Robert Rojas in an all NCRC Final Round. This will be Candido's first season in Outlaw 10.5, and it sounds like he's off to a great start! It was also Robert's first race and first full passes in his Camaro. Can't deny he did a pretty good job as well to go to the final round first time out! - Congratulations to both Candido and Robert!
Posted in Racing News - January 24th, 2011