The "Wet Clutch" – lets you kiss between rounds clutch maintenance good by!
The latest innovation from Neal Chance Racing Converters is the Full Billet Internal Lock Up Racing Converter. This unique new converter was a top secret joint project between NCRC and Rossler Racing Transmissions, but the cat is out of the bag now!
It works exclusively with Rossler's TH400 Based Transmissions such as the 210 Series 3 speed, or 2 speed TurboGlides. This converter has been through the testing phase and is now available for sale to anyone that wants to take the win light away from a clutch car.
The Lockup Converter offers far more durability than a "Dry" clutch, with the ability to last an entire season in a 3.70 Nitrous car with no wear!
Features
5 Axis CNC Machined Body and Fins
NCRC Extreme Duty Monster Mechanical Diode
Stators available in Fabricated Steel, CNC Billet Steel or CNC Billet Aluminum
Custom 5 Axis CNC Machined Fins increase efficiency.
Heavy Duty Thrust Bearings
Hardened Pump Hub
Internally and Externally Balanced
Optional CNC Machined Billet Titanium Drive Cover
Our customers that have switched have found what used to be the "ragged edge" with a clutch, is now "safe" with less chance of tire shake. The billet lockup offers the best of both worlds – you can launch with the quick reaction and torque multiplication of a converter, and lock it up when you want to for that big top end charge. You can even pulse the lock up if you wish.
It weighs in at 30 lbs for the full billet version which is super lightweight for a lock up converter, and it's also available in aluminum/steel configuration for about a 6 lbs weight hit. It's designed to take the full brute force of even a Nitro Burning Blown Hemi, so this is gonna shake things up just a bit in a very short time frame! Already Todd Tutterow has blown away the MPH record for Pro Mod with a scorching 262.49 mph pass during the throwdown at E-Town using this new technology – what can you do with it?
Lockup Converter Heavy Hitters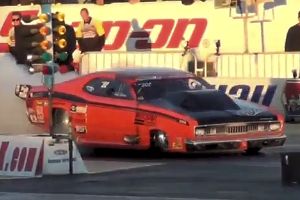 Todd Tutterow – 263 MPH Pro Mod Record
with New NCRC Lockup Converter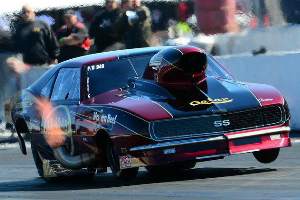 Stevie "Fast" Jackson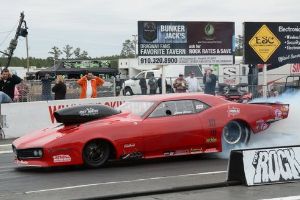 Jason Harris – PDRA Pro Nitrous
Tommy Franklin – PDRA Pro Nitrous
Lizzy Musi – PDRA Pro Nitrous
Jim Laurita – ADRL Pro Nitrous