Gain as much as 3000 rpm more stall for harder launches!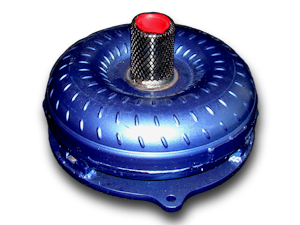 Street & Strip Performance Converters

NCRC Street Performance Converters are ideal for use behind a High Performance Muscle
Car or Truck that is intended primarily for street duty.
Furnace Brazed and Heli-Arc Welded Fins
Cast Aluminum Stator
Anti Balloning Plate Available
Torrington Roller Thrust Bearings
Hardened and Ground Pump Hub
Billet Steel / Fabricated Front Cover
Conventional Spring and Roller Sprag
Dynamic Hi-Speed Neutral Balanced
Custom Fin Angle for your application
Unlike other converter companies that sell an off the shelf, one size fits all street performance converter, NCRC Street Performance Converters are 100% custom built for your application so that we can carefully match the stall speed to what your vehicle needs.
Available 9.5" Diameter Turbo Spline for GM TH350/TH400 or Glide with Turbo Input Shaft. All NCRC Street Performance Converters are covered by the famous NCRC "If you can break it, we'll fix it" 1 year warranty. Lead Time after order placement is typically 1 week.