Up to 20 lbs lighter than steel bolt together converters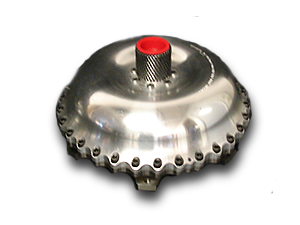 Billet Aluminum
Racing Converters

5 Axis CNC Machined Body & Fins
Another first in Racing Torque Converter Technology from Neal Chance. The new, All Billet Aluminum Bolt Together Converter is 6 lbs lighter than our Steel/Aluminum Bolt Together for dramatic weight savings right at the end of your crankshaft for maximum acceleration gain. Not only is it lighter, the Full Billet Converter also offers State of the Art 5 Axis CNC Precision Machined Pump Fins and Stators for the Ultimate in Efficiency and Power Transfer.
Available in 8″, 9″ and 10″ models in many different configurations and stall speeds. NCRC has drive options to fit ANY racing transmission on the market today – including many "yet to be released" drives.
How much performance improvement will you see? Of course a lot depends on what you're replacing. This converter may be as much as 17 lbs lighter than a competing product, and it's 6 lbs lighter than the NCRC steel/aluminum bolt together model. That's a lot of rotating weight!! We are getting feedback from some saying it's worth around a tenth in the 60′ and more in the quarter! This Converter currently holds the Worlds Fastest Door Car 60′ records with numerous runs in the .80's – yes, that's as quick as a Fuel Funny Car! Frankie Taylor in his ADRL Pro Extreme Car has recorded a 3.485 with this converter, so yes it can handle the power down track as well…
Features
5 Axis CNC Machined Body and Fins
NCRC Extreme Duty Monster Mechanical Diode
Stators available in Fabricated Steel, CNC Billet Steel or CNC Billet Aluminum
Custom 5 Axis CNC Machined Fins increase efficiency.
Heavy Duty Thrust Bearings
Hardened Pump Hub
Internally and Externally Balanced
Optional CNC Machined Billet Titanium Options
Optional NXS Blower Upgrade
The full billet design has many benefits, for starters it's approximately 12 to 20 lbs lighter than other bolt together converters, and it's 6 lbs lighter than our aluminum/steel bolt together models. That's a LOT of rotating weight, and it's right where it matters hanging off the end of the crankshaft! It also features fully CNC machined fins for outstanding repeatability and consistent fin profiles.